Recycle More
UK Waste Electrical and Electronic Equipment (WEEE) Regulations (SI 2006 No. 3289)
So that you can get your old electrical products recycled, we make a financial contribution towards the development of recycling collection points (known as 'Designated Collection Facilities') throughout the UK through our membership of the 'Distributor Take Back Scheme (DTS)'.
UK households dipsose of over 1.2 million tonnes of electrical and electronic waste every year. This is the equivalent of 150,000 double decker buses and would be enough to fill the new Wembley Stadium 6 times over.
Much of the UK's electronic waste ends up in landfill sites, where toxins put communities at risk. Failure to segregate any type of recyclable material in the home will usually result in items being disposed of in a landfill site (buried in the ground in the UK) or being incinerated.
To remind you to recycle, all new electrical products are marked with an underlined, crossed out wheeled bin symbol.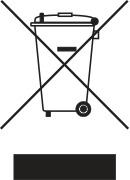 Your Local Designated Collection Facilities can be found at...
WHERE THE FOLLOWING MATERIALS ARE COLLECTED;
Fridges
Other large kitchen appliances
TVs and monitors
Flourescent tubs and low energy light bulbs
All other electrical waste and electronic equipment
Find out how to minimise your effect on the environment and to locate all other collection facilities throughout the UK, please visit

Recycle-More helpline number 08450 682 572.