Recycle More
BATTERY RECYCLING
Two out of three batteries are thrown away and end up in landfill. Batteries are classified as hazardous waste as they breakdown releasing chemicals that damage the environment and pose a fire risk. Our Mountain Warehouse stores offer battery recycling boxes to help facilitate safe recycling of old batteries. Please also see https://www.recycle-more.co.uk/ for other battery recycling facilities and help us minimise any negative environmental impact from batteries at end of life.
ELECTRICAL RECYCLING
If you're buying a new electrical item, we will recycle your old one for free. The item must be similar in type and/or function to the new item being purchased from us and have the same intended usage but it need not have originally been purchased from us, or be the same brand as the new item being purchased. For example: If you purchase a Mountain Warehouse torch you can bring back an unwanted torch for us to recycle on your behalf.
Unwanted electrical equipment is the UK's fastest growing type of waste. Many electrical items can be repaired or recycled, saving natural resources, and reducing their impact on the environment. If you do not recycle, electrical equipment will end up in landfill where hazardous substances will leak out and cause soil and water contamination – harming wildlife and human health.
We are pleased to offer our customers the chance to recycle their old electrical items in our stores when purchasing a new item from us. How does it work? Bring back your old electrical item to a Mountain Warehouse store within 28 days of purchase. The staff will ask for proof of purchase of a new Mountain Warehouse electrical item of the same type. We will then recycle the old item on your behalf. When recycling an item via one of our stores, please ensure that any personal data is removed, and that the product is clean, dry, and free from food waste and contamination. Stores may refuse to take back electrical items that do not meet these criteria.
If it is not convenient for you to visit a Mountain Warehouse store, many other locations offer electrical take back services across the UK – please see https://www.recycle-more.co.uk/ for further information and recycling facilities near you. To remind you that old electrical equipment can be recycled, it is now marked with a crossed-out wheeled bin symbol. Please do not throw any electrical equipment (including those marked with the crossed out wheeled bin symbol) in your bin.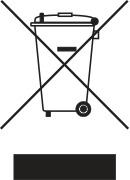 Your Local Designated Collection Facilities can be found at...
WHERE THE FOLLOWING MATERIALS ARE COLLECTED;
Fridges
Other large kitchen appliances
TVs and monitors
Fluorescent tubs and low energy light bulbs
All other electrical waste and electronic equipment
Find out how to minimise your effect on the environment and to locate all other collection facilities throughout the UK, please visit

Recycle-More helpline number 08450 682 572.
For more information, please visit www.mountainwarehouse.com/sustainability/planet